Arbored vs Non-Arbored Hole Saw – Differences
If you find yourself needing to saw holes in your projects then there's no doubt in our minds that you are going to need and love a hole saw. Hole saws are versatile tools that can carve out holes in any material and varying sizes. their versatility is what endears them to DIY enthusiast and professionals alike and the convenience these tools brings on the table (literally) is a must-have if you want to work fast and easily.
There are mainly two types of hole saws and that's what we are going to discuss in this article. Arbored vs Non-arbored hole saw, which one should you get or which one do you prefer?
Interest in knowing their similarities and differences? Well, go ahead and read on!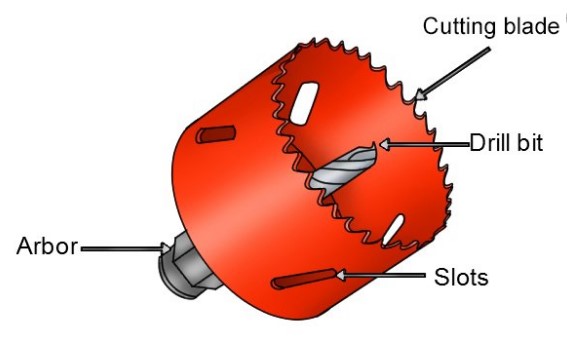 What is a hole saw?
Before we proceed with our comparison, we first need to enlighten everyone with what a hole saw is. A hole saw is what is also known as a hole cutter and a saw that possesses an annular or ring shape.
And as the name indicates, the ring-shaped saw is the design responsible for cutting up a hole in any material without having to do any other cuts or preparations. hole saws can cut through a multitude of materials easily and conveniently. You may work on wood, plastic, steel, and even stainless steel materials.
Hole saws come with multiple types of blades and they also vary in size thus making them more versatile. This tool surely enables anyone to work faster on their projects. They are also pretty easy and reliable to utilize.
The saws are used in a drill. It's the drill press that rotates the saw, at varying speeds you'd like, on your material so it would carve your desired hole. Pretty simple mechanism, right? It is and getting used to it is not that hard either. It's a tool that must be on anyone's kit.
Some advantages:
You don't have to cut the core of your material for you to drill a hole in it, that's why it's more convenient and easy compared to some other tools like your spade drills or twist drills.

Cutting up said holes should be relatively faster and requires less power (and effort).

You can cut way larger holes with hole saws.

With the different depths on a hole saw's cup-like shape, you can freely cut on not just a multitude of materials but at the same time, it won't matter how thick or thin they'd be. You just need tohave the right depth of the annular saw blade.

Very little learning curve is necessary to learn how to operate it.

Relatively affordable.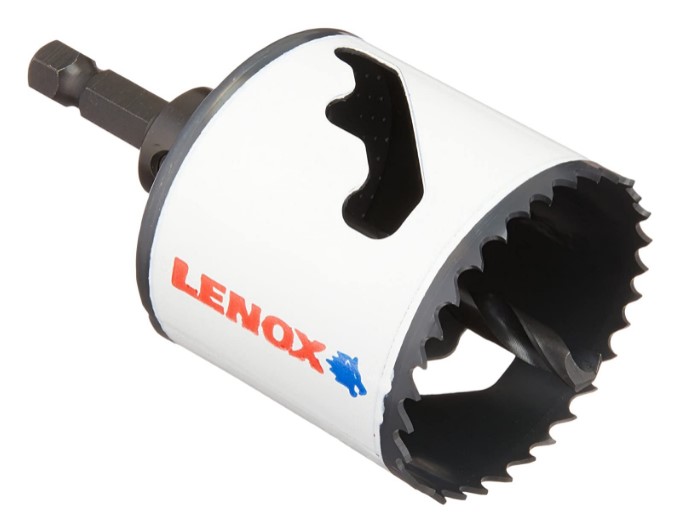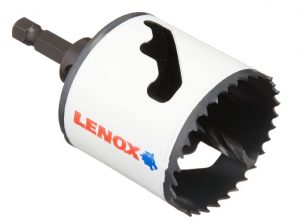 Arbored Hole Saw details and price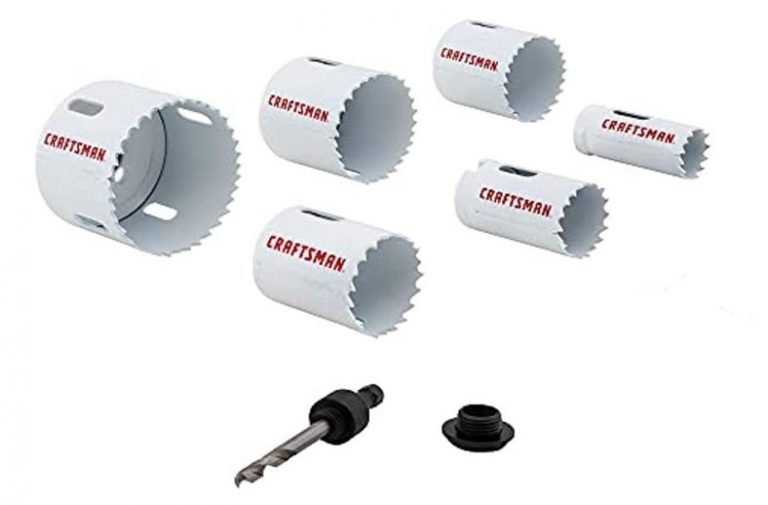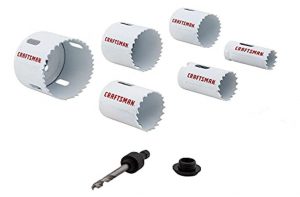 Non-Arbored Hole saw details and price
What is the difference between an arbored hole saw and a non-arbored hole saw?
All right, now that you have an idea of what a hole saw generally is, let's talk about the key difference between an arbored hole saw and a non-arbored hole saw.
At first glance, both of these hole saws would look alike, that's because both have subtle yet functional differences. An arbored hole saw will have what you call a pilot drill bit or what we call an arbor at its center to make sure that you keep the saw teeth from being unstable or walking.
On the other hand, a non-arbored hole saw would then come without the pilot drill bit at the center to keep it in position. So, knowing their key difference, why would someone use one over the other? Let's explain.
Further comparisons…
Obviously, the main goal of an arbored hole saw is to help you cut with more accuracy. The pilot bit at the center works by cutting on your material first and anchoring it in place before your annular saw cuts through it.
Without this pilot drill bit, you put your hole saw at risk of walking. Walking in this context means that your hole saw will drift away from its desired position and we don't want that as that's A) dangerous B) a waste of material and inefficient work.
That's why if people use a hole saw, it would only be natural that they'd get their hands on an arbored hole saw first. So, yes, that's the main advantage of using an arbored hole saw, making sure that you will cut a hole on your desired spot on your material.
However, that exact strength is also its weakness or the reason why people would prefer to use a non-arbored hole saw. What if your purpose of cutting a hole on your material is to have a round piece of it and not really to create a hole on it?
You can't have a tiny hole at your cut-out's center, right? The arbored hole saws mechanism is fixed and does not have room for a lot of adjustment either. Thus, enter the non-arbored hole saw into the picture.
Continuing our arbored vs non-arbored hole saw discussion here with the advantages and use of the non-arbored hole saw.
Given that you already have a good idea of what or how an arbored hole saw is utilized as well as its main purpose, let's talk about why someone would use the non-arbored variety of this convenient tool.
Non-arbored hole saws probably require more practice as it's a bit trickier to operate and does not have a pilot bit to anchor it in place as you drill for that hole. While the accuracy of the result relies partly on you, non-arbored hole saws are much more versatile than arbored hole saws.
If you're going to purchase a set of hole saws, you'll probably get about 2 arbored hole saws but you're going to have several non-arbored hole saws and that's because it's got way more functionalities.
So here's another key difference if we didn't make it clear earlier, an arbored hole saw will have a fixed shank while a non-arbored hole saw will have a removable arbor so that you may use hole cutters with varying diameters with it.
Both arbored and non-arbored hole saws function pretty much the same ways though, they just have somewhat different applications. So, right now you may have a pretty good idea on which projects you may use a non-arbored hole saw for. Another advantage for these types of hole saws is that they cost less and they don't really occupy more space than their arbored counterpart.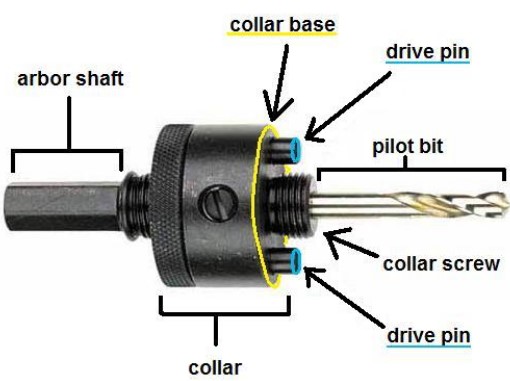 How to utilize hole saws and safety tips
Given that you may utilize hole saws in different types of materials, you have to make sure to know how to use them properly. You may once again use these hole saws on timbers, glass, ceramics, plastics, and all sorts of steel.
The first thing that you need to consider is that you should be using an appropriately powerful drill for your intended application. It's fine to use cordless drills for softer or thinner materials or at least a 14V model. But a battery-operated drill is a no-no for anything over 50mm in thickness. Use a heavy-duty drill for something like timber or masonry if you don't want to damage your tool and also, hurt yourself.

Even with a hole saw and a drill that seems harmless, still we encourage you to observe proper safety precautions when utilizing them. We recommend that you always should wear some sort of PPE for your own safety. For lighter applications, a good quality pair of goggles or safety eyewear should suffice together with tight-fitting gloves or a dust mask. Please, observe the most basic of safety rules when handling power tools no matter how simple it may look, don't wear any loose clothing or take off any jewelry. If you have long hair then be sure to tie it neatly away from the tool to prevent entanglement.

You're going to have to be patient with how you drill and carve out a hole into any material regardless of its thickness. Gentle but consistent pressure should get it done. Gradual speed is recommended. No need to rush things.

Make sure to remember the two primary things that would restrict your hole cutting ability: the power of your drill and the depth of your hole saw. Make sure to use the appropriate ones for your intended material or else you'll be facing problems.

Make sure to cut at an accurate 90-degree angle on your workpiece.

Going off-center or hitting a nail as your drill can cause jamming so watch out for those.

Always use an arbored hole saw for accuracy and safety and most especially on tougher materials.
We hope that through our arbored vs non-arbored hole saw comparison article we were able to highlight both of these awesome tool's properties and functionalities clearly. While they differ in applications they function pretty muchthe same way.
So, the next time you visit your favorite hardware shop, you know what to do and what to buy. Go get yourself a hole saw for your varying needs. Trust us, the investment would pay off nicely. Keep safe and enjoy your projects!