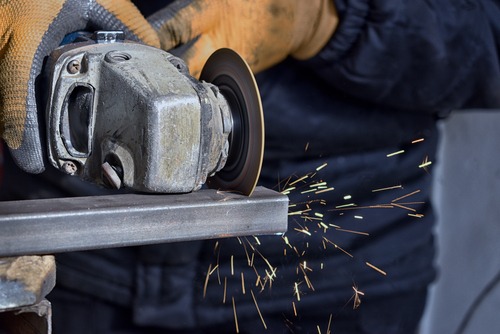 Easy Way To Cut Metal Efficiently
All sorts of metal are utilized for a lot of applications. Buildings, constructions, tools, and a lot of things that we use for our daily lives. That's why it's not that uncommon that one way or another we will encounter cutting metal for our projects. And it doesn't matter whether we are just a hobbyist or a professional.
There are a lot of types of metal and each of them can be cut using the appropriate tool. The tool or method we employ determines how easy the job can be. So we've researched a few easy ways to cut metal so you can do your job easier and more efficiently.
Use your circular saw
It may not be your first choice but trust us when we say that circular saws are really handy when you need to cut through metal. You just need to arm with the right blade and it can cut through even the thickest metal fast and easy.
A ferrous cutting metal blade is recommended and you can cut through about 3/8 inches of mild steel. Just be sure to wear all of the appropriate protective gear and metal chips (hot ones) are sure to fly around as you go through the cutting process.
The blades that you need to utilize are oftentimes only the inexpensive ones like carbide and steel tooth blades with the former a bit more pricey but are relatively long lasting.
Ready your angle grinder
Your angle grinder should be armed not with an abrasive blade but instead with a diamond blade. This type of blade should cut through ferrous metal easily plus it won't wear down just as fast and won't shrink down in terms of diameter easily too.
This method can be super effective.
The mighty miter saw
As mentioned, knowing what to use to cut which type of metal is essential in making your tasks easier. That's why we recommend you to use the miter saw when it comes to cutting aluminum.
The miter saw armed with the right blade makes cutting through ball sorts of aluminum material rather easy. Always check the label and make sure the blade is for nonferrous metal.
The grinding disc
Stainless steel is one of the toughest types of metal that you'd ever have to cut. But not with the right tool in your hands. While a rotary tool armed with an abrasive disc that's meant for cutting metal is right for small jobs you may need an angle grinder with an abrasive disc for larger ones.
Always take note of matching the right blade with the right type of metal. Take note of the nonferrous and ferrous type of blades. Any type of metal that contains iron is considered ferrous and steel roofing, steel angle iron, steel bolts, and rebar are samples of it. While aluminum and copper are two of the most common types of nonferrous metal.
Score and snap technique
For cutting aluminum, pros oftentimes employ the score and snap technique. This process enables you to work on the aluminum siding as well as flashing to then create precise and straight cuts. Even steel and some light gauge metal can be subject to this method.
Utilize an oscillating tool
When trying to reach and cut on tight spots, an oscillating tool is best. When a flush cut is needed an oscillating tool that's armed with a metal cutting blade should be your best choice. This is ideal for working corroded metal on your toilet or underneath your faucet. In short, this is best for your plumbing.
Take out the recip saw
A reciprocating saw is also one easy way to cut metal. Of course, it should also be powered with a metal cutting blade. See firsthand how it can handle cutting nuts, bolts, pipes, rods, and even angle iron easily.
Just make sure to use your recip saw straight rather than it oscillating. Keep it slow and choose the right blade preferably 20 to 24 TPI or teeth per inch for thinner metal and medium thickness metal use 10 to 18 TPI. Lastly, use a blade with 8 TPI for even thicker types of metal. Also, for longer blade life make sure to utilize either carbide or bi-metal tooth blades.
What about when dealing with mesh?
When dealing with metal mesh or maybe even metal lath, use a grinder. An angle grinder armed with a diamond blade should still be ideal for this job. Of course, you can always employ tin snips but why make your job harder?
A diamond blade that's labeled as ferrous metal should make it simple.
Again, make sure to read safety precautions all the time. Wear safety glasses whenever you attempt to cut metal as chips are sure to fly to your face. Cover all exposed skin and be sure to let the freshly cut metal cool before touching it. Wear gloves, secure your clamping, and always tell people to wear proper protective gear before letting them near you or your workplace.