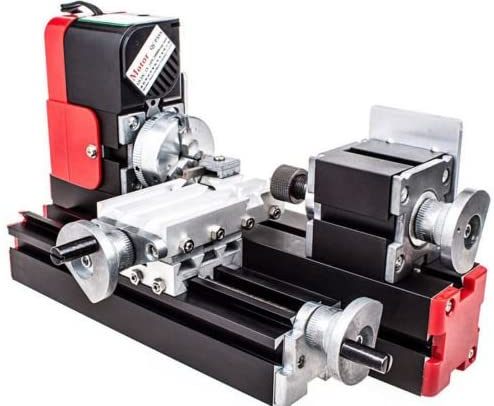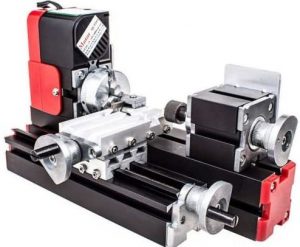 What does a lathe do?
There's evidence that a lathe is one of the most ancient tools to be utilized by civilized men. And, why not for it's one of the most versatile, heavy-duty, and functional machines ever invented?
You can do a lot of operations with it and perform said operations on a multitude of materials. We're talking about cutting, knurling, sanding, drilling, facing, deformation, and turning processes that would otherwise be challenging to perform using different means.
Wood and metal are just two of the materials that you can process with a lathe machine. Still curious? No worries, we got you covered. What does a lathe do? Let's find out more about this awesome machine.
Things you need to know about a lathe
Let's get to know the lathe machine more!
In its very definition, a lathe is a machine that works by rotating a workpiece such as metal or wood at its axis to perform the different operations we mentioned above. Creating an object with symmetry is the primary goal of using a lathe machine.
They are utilized in metalworking, woodturning, metal spinning, parts reclamation, thermal spraying, and glass-working. As you'd expect, there are multiple types of lathe machines.
There are the common metalworking lathes that produce solids of revolution and helices or what you call screw threads. You also have the potter's wheel utilized for pottery. Then you have ornamental lathes that are utilized to perform 3D solids of extremecomplexity.
The lathe machine is also known or called the mother of all machine tools. So, in a nutshell, how does it work? Well, it works by holding a workpiece in place rotating it around a stationary tool to cut or remove any of its unwanted parts to shape it.
What are the common products you may produce by utilizing a lathe machine?
Well, most of them are everyday items that we utilize. This includes screws, bowls, table legs, cue sticks, gun barrels, candlesticks, baseball bats, crankshafts, and even musical instruments like woodwind instruments.
The part of a lathe machine
Knowing about the parts of a lathe machine goes a long way especially if you want to operate it efficiently.
Stripped down parts of a lathe machine
1. Power On and Off

2. Spindle forward and reverse

3. Carriage handwheel

4. Cross feed handwheel

5. Compound feed handwheel

6. Threading half nut

7. Threading dial

8. Spindle speed

9. Brake

10. Spindle high and low range

11. Carriage or cross feed engage

12. Thread or feed reverse

13. Feed ranges

14. Gear box

15. Gear box low or high

16. Tailstock

17. Tool post

18. Tool holder

19. 3 jaw chuck

20. DRO or digital Read Out threading or feed selector
Let's familiarize ourselves with some of the most important components of a lathe machine. We're talking about the bed, headstock, tailstock, carriage, legs, cross slide, saddle, and apron.
Bed
The bed of the lathe machine refers to the large beam or horizontal structure that supports the rest of the parts of the lathe like the tailstock and headstock. Everything is mounted on the bed except probably on woodworking lathes which do not have a bed.
Headstock
Clamped right at the end of the bed is the headstock. A very important part of the lathe, the headstock is responsible for the machine's rotational power. The headstock is where the bearings utilize by the machine to rotate the workpiece up against the tool bit are contained.
Tailstock
The tailstock would then be naturally placed at the opposite end of the headstock. It is also called the loose head as the tailstock contains the non-rotating barrel that's utilized for several purposes. Two of which are to hold your tool bit or to support the workpieces as they rotate.
Carriage
The component nestled between the lathe machine headstock and tailstock is then called the carriage. This component servesas the guide of the tool bit in the cutting process or outright manipulates the workpiece.
Legs
Naturally, the legs are the vertical structures of your lathe machine so you'd have an elevated surface to work. The legs of your lathe machines are usually bolted into the floor due to the heavy weight of the components it needs to hold up.
This is also to ensure that the lathe machine will be as stable as possible.
Cross Slide
This is the component that's on top of the lathe machine and enables the tool bit to move back and forth.
Saddle
An H-shape part of the carriage that supports the cross slide as it moves about.
Apron
This is a component of the lathe machine that clamps onto the saddle. It's very vital as it is meant to hold a lot of the mechanism down like the levers and gears that will, in turn, push the cross slide. It can also be considered as a sub-part of the carriage responsible for the tool bit.
Types of lathe machines
Let's discuss a few types of lathe machines and their functions. Depending on the type of the lathe machine you can do various processes or operations as well as work on a multitude of materials.
Speed lathe
A speed lathe is operated manually and at high-speeds. Manually, due to the fact that even though it comes with multiple useful attachments it does not come with a lead screw, gearbox, and carriage.
It is utilized for metal spinning, centering, woodturning, and polishing. A speed lathe can operate at 1000 to 2100 RPM.
Engine or Center lathe
This is perhaps the most widely used lathe machine today. And, for good reason as it can perform a wide variety of tasks, it is heavy-duty, reliable, and can process multiple materials.
It is mostly utilized for turning, grooving, end face, knurling, and threading. The engine or center lathe can operate your cutting tool in both lateral and longitudinal directions.
An engine lathe machine has multiple drive sources such as belt drive, reducer, and motor drive.
Bench lathe
A bench lathe is a smaller type of machine and mostly utilized for smaller projects that requires the utmost precision. It's got parts that are similar to the engine and speed lathes though.
Turre lathe
The turret lathe machine or otherwise known as the Capstan lathe is utilized for high-volume production or large jobs. It's got a hexagonal head that rotates to change the operation without manually doing so like turning, boring, end face, and reaming.
Tool room lathe
The tool room lathe features some attachments that are utilized for more precise speed angles. It includes attachments such as the collet, chuck, rest, and for taper turning among others. It can hold down a workpiece of 135 to 180cm in length.
Automatic lathe
An automatic lathe is also utilized for mass production. This is very high-speed ad heavy-duty and one of its main advantages is that the operator can work on several machines at the same time.
CNC lathe
A CNC lathe machine is a type that can be operated through a computer. Definitely for mass production with top precision and speed and once the set of codes are inputted operation may proceed without further intervention. These are the most advanced types of lathe machines today.
Wood lathe
A wood lather, as the name indicates, is utilized to transform a piece of wood into a particular shape. Either to a spindle, jar, or pot there are many designs as well as shapes that you may produce with it on your wood material.
Other types of lathe machines worth mentioning would be the wheel lathe, crankshaft lathe, and vertical lathe that are also widely utilized for their unique purposes.
Lathe machine buyer's guide
Here are a few things to consider when you're planning to purchase a lathe machine.
The precision of your measurements is important if you work with these machines so you may achieve great results. Therefore, make sure to choose the right lathe size and go for machines with the metric system.
Usually, smaller lathe machines are more precise and easy to transport so stick to them if you don't need to work on larger pieces. Also, go for units with measurements that are clearly expressed for utmost accuracy.
Your lathe machine should also have options for power feed.This is to ensure that your work won't be as tiresome and be more efficient. For top-level production, a lathe machine with a 4-jaw chuck is best for production.
Also, make sure to take the machine's bed & swing measurement. Make sure that the bed of your target lathe is strong enough as well as its headstock and tailstock. And lastly, check how much sway the swinging head canhandle.
Safety tips
Always protect your eyes at all times when operating a lathe machine.

Don't wear any jewelry and wear tight clothing.

Avoid handling any material or the tool directly as it can be hot. Always wear gloves.

Always remove the chuck key after use.

Make sure that the tool bit has clear angles.

Avoid reverse running of your threaded spindle.

Only measure after stopping the tool
Always observe safety precautions when handling a lathe machine. Purchase the right type that you need and get help if you are unsure of how to use them.