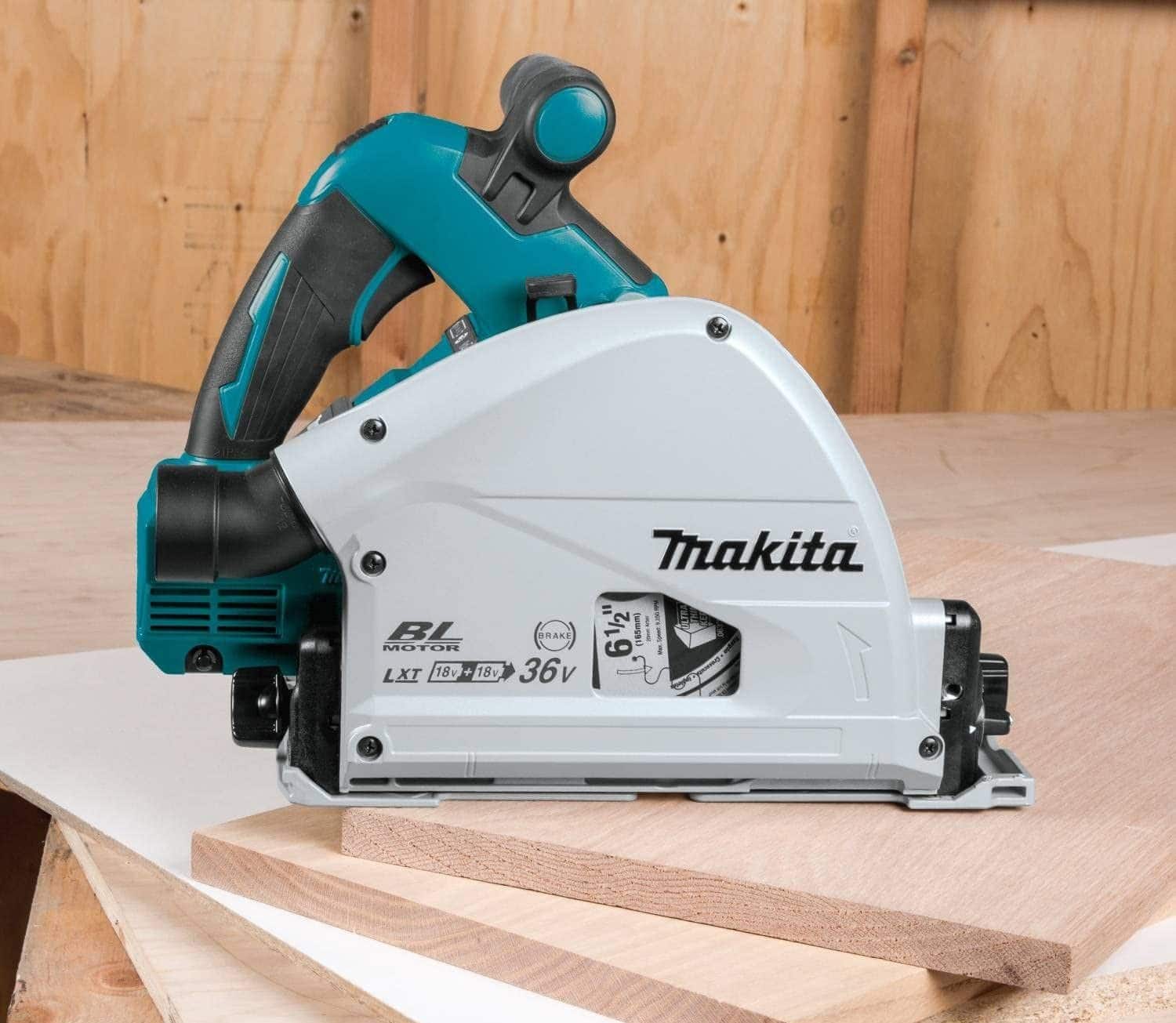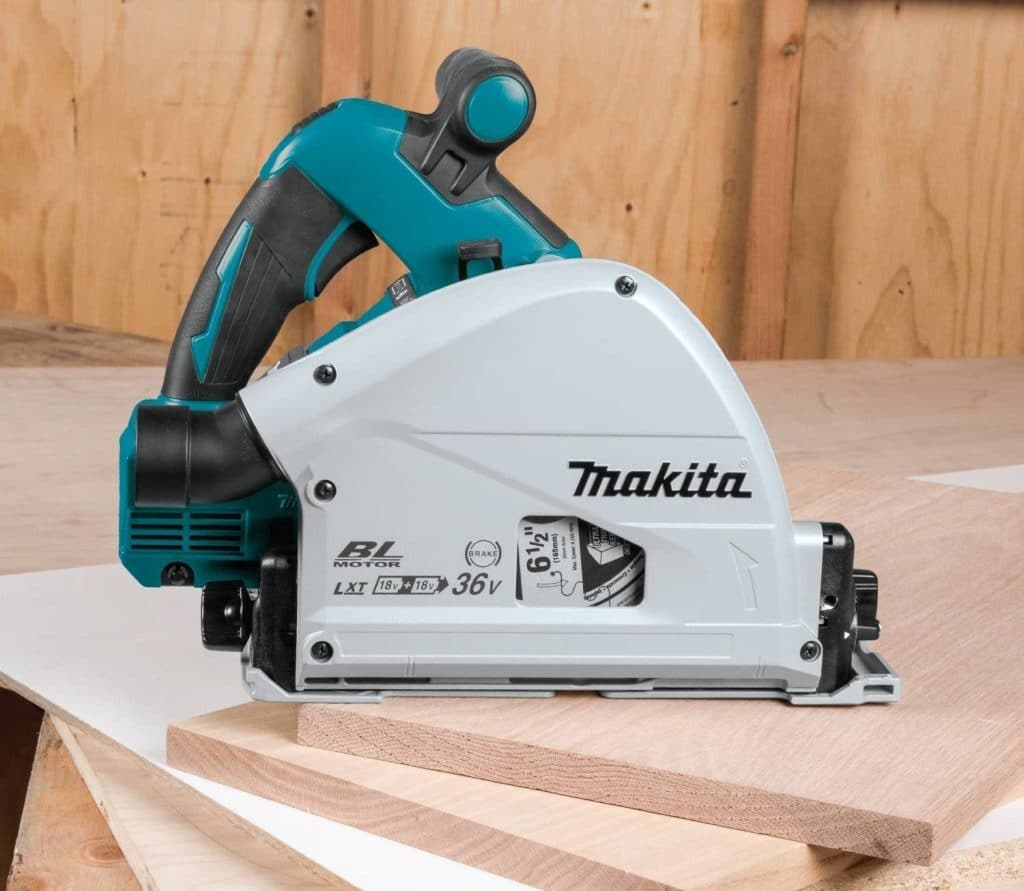 What is a plunge saw?
What is a plunge saw and what are the advantages of using it? Some would argue that a circular saw can handle all types of jobs but we actually think that that isn't an accurate claim.
If you know how to utilize a plunge or what we call a track saw then you will benefit greatly from it. It's essentially a handheld circular saw that you operate through a guide rail and they perform long and accurate cuts.
They "plunged" into your material with a predetermined depth of cut so it's a lot safer and there's a reduced chance of splinter or tear-out. Interested? Let's talk about it more.
Characteristics of a plunge saw
Here are some of the unique features of a plunge saw that differentiates it from a circular saw.
Make cuts without the use of any clamps: The guide rails that come with rubberized strips make this possible. There's no risk of it slipping either.
Cutting depth: One characteristic of a plunge saw is that your depth of cut is now predetermined pretty accurately. The riving knife is also spring supported which means that it will retract automatically into its housing once the saw is plunged into your material.
As you push or plunge forward, the riving knife drops right behind the cutter and so no binding happens and your safety is ensured. Given the complete control from the start to the end of the cut, you can then perform complex cut-outs easily.
A plunge saw is also ideal for cutting flooring to size for its flush housing allows for cutting very close to edges.
Dust extraction: Not only can you cut safely and accurately but plunge saws have a dust extractor mechanism in them so you won't gather dust as you work.
We all know that there are certain risks when it comes to sawdust and this makes sure that we avoid any of them.
Voltage: Plunge saws also operate in 230V or 110V so they are very much suitable for on-site work.
Versatility: Plunge saws can be utilized for cutting down insulation, lamination cutting, and an excellent power tool to use to cut down doors. So, if you want to perform some extremely accurate cuts for plywood, MDF, particle boards, and OSB, then a plunge saw is your best bet.
Benefits of a plunge saw
At this point, you may already have some idea of the projects that you can work on using a plunge. Here are some clear benefits that you'll reap once you start to employ them.
Precision cutting: And we're not just talking about precise cuts but also making those cuts rather easily. They are also time-saver tools and you eliminate any guesswork involved in the process.
Perfect for tight spaces: You won't need any room anymore for your material to feed in and out. With a plunge saw, you can cut larger boards even if you don't really have a wide workshop. In short, it's super-ergonomic.
Fast cutting: Oftentimes, when we need to cut larger boards or pieces of wood, we need to use a circular saw to make a rough cut on it and then finish it off with a table saw. That's a lot of work but can be eliminated with a plunge saw.
Portable: This one is obvious but one great advantage of a plunge saw. Due to its design, you can take it anywhere and utilize it. Unlike your circular or table saw that aren't so easy to move.
For anyone: As convenient and functional as it sounds, anyone can start using a plunge saw. This tool is suitable and won't be that intimidating for either novice or pro woodworker.
Plunge saw versus a circular saw
So, what are other aspects that we need to know between the plunge saw and the traditional circular saw?
Characteristics of a traditional circular saw
Take note that with a circular saw you are going to need to start your cut right at the end of the material that you are working on

Circular saw cuts do not ensure that it will be splinter-free

The blade side of a circular saw will be open so there's no way to efficiently manage dust

The side fence does not also offer any guarantee for consistent nor exact accuracy on your cuts
In a nutshell, a plunge saw is safer, can be plunged into any point of the material, has an easy dust management design, easy for door or floor cutting, and enables adjustments for the cutting depth.
Some safety tips
Now that you are all too familiar with what a plunge saw is and how it differs from a traditional circular saw, then we'll talk about a few safety rules.
Make sure to wear eye protection

Don't wear any loose clothing

Always maintain your blade for sharpness for they are safer to work with

Check your cutting surface for metal objects like screws or nails

It's always advisable to use both hands when operating it

Ask for help if you don't know what you're doing to avoid mishaps

 
Buyer's guide
When you're shopping around for a plunge saw you should be aware of its battery power, variable speed, electric brake, and riving knife.
These aspects will determine the functionality, versatility, and how safe your plunge saw can be when you operate it.
Final Thoughts
Knowing when to utilize a plunge saw as opposed to another type of saw goes a long way. Plunge saws are safe, accurate, versatile, consistent, and has a lot of functions that we can't even start to think that it can do.
It's just one of those tools that can make our lives easier and enable us to tackle a lot of projects that otherwise would be challenging.
More and more woodworkers, DIY enthusiasts, and pro-contractors are getting into the plunge saw bandwagon as of late and we think that you should too.
So grab yours now and start enjoying the many advantages of a plunge saw.