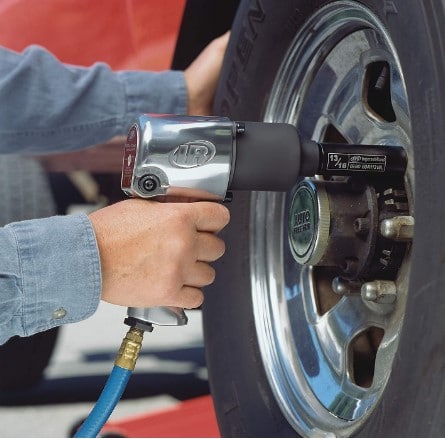 Air Impact Wrench Under 100 and Under 200
Power tools help us in a lot of ways and for sure, if we want to get work done fast and efficiently then we need to have all sorts of it right at our disposal. Some do heavy-duty work but most power tools are designed to make our lives easier and get work done faster.
Such as an air impact wrench. Don't get us wrong, an air impact wrench is very essential and does so much for us whether you consider yourself a professional or a hobbyist. But, not all of our tools should be super expensive for them to add value to our daily tasks.
We need to be keen on our spending too and make sure we get the most value out of our money. What we are trying to say is that not all tools should cost you a premium and so here we are with some of the best air impact wrenches under $100 and under $200.
Let's get to know your options!
What is an air impact wrench and how does it work?
An air impact wrench is a power tool and is also called a socket wrench. Its primary function like most power tools is very simple, it's to deliver much-needed high torque without any need for too much exertion for the part of the user.
This simple mechanism actually helps get a lot of work done and FAST. It primarily works by storing energy in its rotating mass and quickly delivering said energy into its output shaft. Robert H. Pott from Evansville, Indiana is credited with inventing this power tool.
How it works and how we benefit from it is reminiscent of any other air-powered tool like an air compressor. It's a viable alternative and a very practical one actually as opposed to say electric or hydraulic devices. They are also known to be very safe and easy to handle.
So, in which industries are air impact wrenches mostly used? Well, in a lot actually. They are utilized in automotive repair widely as well as in heavy equipment maintenance, also in product assembly, and major construction projects. If you need a high torque output then an air impact wrench is what you've been looking for.
A Quick Comparison of 5 Best Air Impact wrenches
| IMAGE | MODEL | RATINGS | WEIGHT | DIMENSIONS | BUY NOW |
| --- | --- | --- | --- | --- | --- |
| | Ingersoll Rand 231C 1/2" Impact Wrench | 4.7 | 6.6 pounds | 3.4 x 8.2 x 8.8 inches | Check Price |
| | Astro1822 ONYX ½-inches Nano Impact Wrench | 4.7 | 1.37 Pounds | 3.85 x 2.38 x 7.5 inches | Check Price |
| | Campbell Hausfeld XT002000 Air Impact Wrench | 4.4 | 5.83 Pounds | 8.7 x 3.3 x 7.9 inches | Check Price |
| | Craftsman ½-inches Impact Wrench | 3.8 | 4.2 Pounds | 7.6 x 21.3 x 20.3 centimeters | Check Price |
| | DEWALT 3/8-Inch Impact Wrench | 4.7 | 0.5 Pounds | 9.33 x 8.33 x 2.88 inches | Check Price |
7 Best Air Impact Wrench Under $100 and $200 Product Reviews
1. Ingersoll Rand 231C ½-inches Drive Air Impact Wrench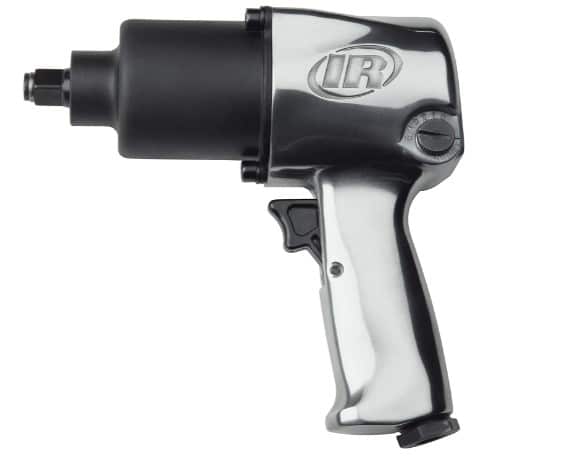 Let's get our best air impact wrench under $100 and under 200$ review started with the well-rounded Ingersoll Rand 231C ½-inches Drive Air Impact Wrench. A lot of reviews you'll see online oftentimes overlook this unit and it's quite baffling given how highly rated it is and how popular given that it is a top-seller.
Anyway, if you're looking for a nice balance of power and comfort then thisis the unit for you. As they say, this is the classic choice. It's a lightweight air impact wrench and very low maintenance too.
It delivers a max torque of 600 foot-pounds that should be more than enough for stubbornness nuts and bolts and heavy-duty applications. It's more than what a DIY guy would need too and it's got adjustable power. It comes with a twin hammer mechanism that ensures efficient operation and rotational speeds of 8000 RPM.
With its length of 7.3 inches, it only weighs 5.8 pounds which shouldn't strain your hands much even if you consistently use it. It's got a nice grip to it too and an overall ergonomic design. It's got a durable 2-piece construction that helps with how easy it is to maintain.
Pros
Well-balanced design

Powerful perfect for heavy-duty applications

Long-lasting and great value for money

Can work those stubborn nuts and bolts easily

Ergonomic and lightweight meant for consistent use
Cons
2.Astro Pneumatic Tool 1822 ONYX ½-inches Nano Impact Wrench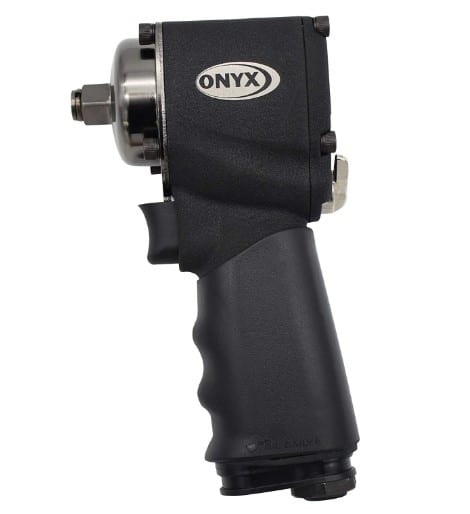 From one highly rated air impact wrench under $100 and under 200$ to another let's move on with the Astro Pneumatic Tool 1822 ONYX ½-inches Nano Impact Wrench. This super compact unit is also quite the bestseller and it looks really cool too worthy of getting added to your arsenal.
If you need an air impact wrench that you may easily bring with you whenever and wherever then this should be a must-have given that it's almost 50% smaller than most of its top competitors within this price range.
But don't get us wrong, that's not everything it's got as it also packs a lot of punch. With 450 foot-pounds of max torque, you'll get a lot of things done with this mini-air impact wrench. It only weighs 3 pounds with 3 forward as well as reverse settings. That's not all, it's also got a built-in twin hammer design to ensure consistency and efficiency as it scales power and air pressure for maximum effect.
It's a semi-pro power tool that's super convenient. Not a lot of people would say that they don't need one of these.
Pros
Super compact and lightweight design makes it very convenient

Packs some power in spite of its size

Ergonomic and won't strain your hands anytime soon

Relatively durable build

The forward and reverse mechanisms are awesome
Cons
Trigger could use a bit of adjustment, it's too hard
3.Campbell Hausfeld XT002000 Air Impact Wrench Twin Hammer Impact Driver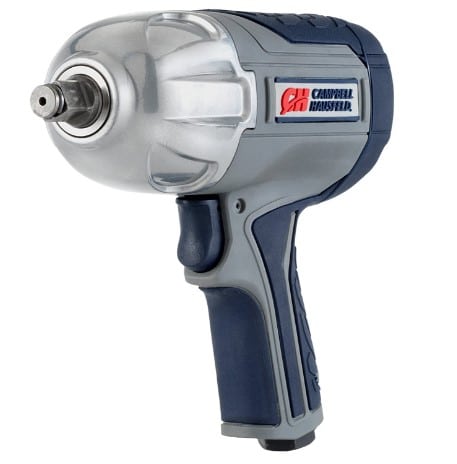 The next best air impact wrench under $100 on our list is the powerful Campbell Hausfeld XT002000 Air Impact Wrench Twin Hammer Impact Driver. We say it is powerful because aside from coming with 400 foot-pounds of torque it also comes with 1200 BPM and 8500 RPM so it's certain that you can get a lot of things done with this unit and fast.
It's got a user-friendly design too with adjustable speed control and a lightweight body of only 5.2 pounds. There's no doubt that you can do work on tight spaces with it. The twin-hammer design gives this unit a lot of balance and reduces nasty vibration.
It also comes with an ergonomic and rubberized grip so it's more comfortable to work with plus an easy-pull trigger to keep things smooth. It's got a 3-speed setting.
Pros
You can get a lot of semi-pro work done with it

Efficient and consistent operation

Very ergonomic and comfortable design

Good speed and power

No vibration and no straining of the hands
Cons
Reportedly not very durable
4.Aircat 1056 XL ½-inchesNitrocat Composite Compact Impact Wrench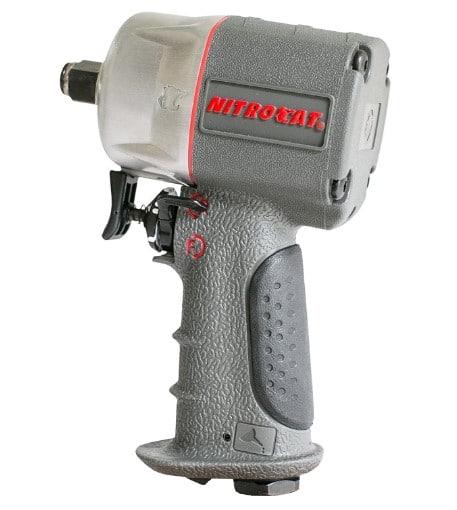 Let's take a look at the Aircat 1056 XL ½-inchesNitrocat Composite Compact Impact Wrench next. Also a frequent choice for the best air impact wrench under $100 today this unit is one of the best from one of the best brands in this side of the industry.
This unit is quite powerful with 550 foot-pounds of torque and its low-weight composite frame allows it to weigh only 2.5 pounds. The jumbo hammer that's built-in ensures reliable punches as you work.
It's also one of the most innovative air impact wrenches on our list as evident with the built-in silent technology to reduce the noise made by this unit to only 85 decibels. It's got a patented grip too that makes it very ergonomic and comfortable to utilize on a consistent basis.
With its weight and power management switch, it is one unit that you can easily control.
Pros
Powerful for a compact and super-lightweight unit

Very ergonomic and comfortable design

No straining of your hands whatsoever

Consistent work guaranteed

Very innovative air impact wrench
Cons
Takes a bit of getting used to due to its mismatch in power and weight
5.Craftsman ½-inches Impact Wrench 9-16882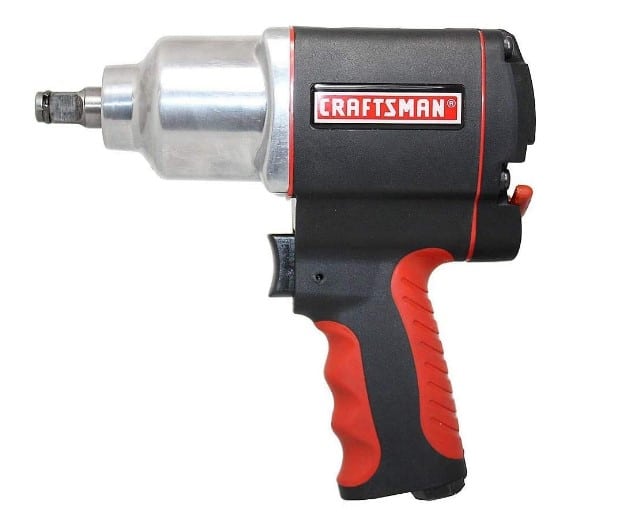 More than halfway into our review let's switch our attention to the Craftsman ½-inches Impact Wrench 9-16882. Looks like comfort was a priority when this unit was designed as it comes with a 2 shot molded and contoured grip together with an ergonomic trigger. It's meant for repetitive and regular usage that's for sure.
It's also very lightweight and portable as it only weighs 4.2 pounds. It comes with 400 foot-pounds of torque which is decent enough for a lot of DIY tasks in your garage and even semi-pro stuff through its single hammer design. It also produces 7000 RPM.
The composite housing promises to be one sturdy frame and users have attested to its durability. It's also got a good system to not only reduce noise but to eliminate any discomfort as you grip it with an exhaust that runs through its handle and is not directed towards your hand. Pretty much an underdog we can say but it's got a lot of promise.
Pros
Decent power

Get a lot of usual tasks done with it

Ergonomic and comfortable

Silent worker

Lightweight and compact
Cons
Pretty much mediocre set of features overall compared to the others on our list
6.DEWALT Square Drive 3/8-Inch Impact Wrench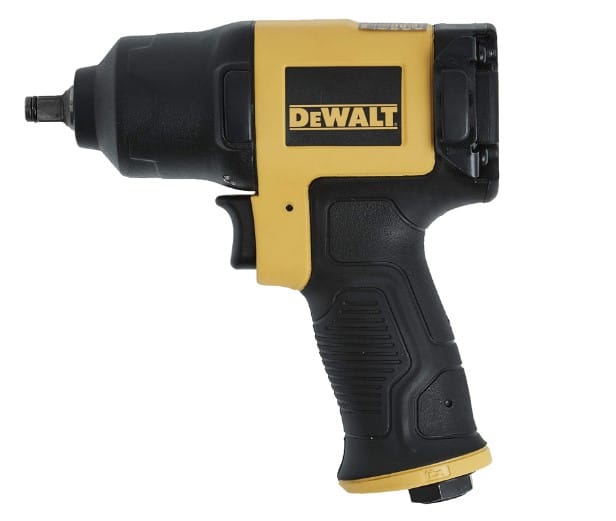 The penultimate entry on our review is the DEWALT Square Drive 3/8-Inch Impact Wrench. Not a lot of people do not recognize this brand and they are on top of the pedestal when it comes to power tools.
A top ranked brand for both professional and hobbyist's tools it won't be left out in the race for the best air impact wrench and so this unit right here, in particular, is one of their best under the $100 price range.
It comes with 300 foot-pounds of torque and the twin hammer mechanism onboard should keep it consistent and efficient. It does not only come with a composite body but also with shock-resistant housing for much-needed durability. Plus, a rubber handle that should fit nicely and won't strain your hands fast.
It's got an adjustable power regulator that should keep things in control for you at all times. 11000 RPM should ensure high power fastening.
Pros
Arguably the most durable unit on our list

Great power regulator feature

Very subdued and consistent operation

Ergonomic and comfortable

Great value for money
Cons
Could use a little bit more torque
7.Berkling Tools 2443J Mini Compact ½-inches Air Impact Wrench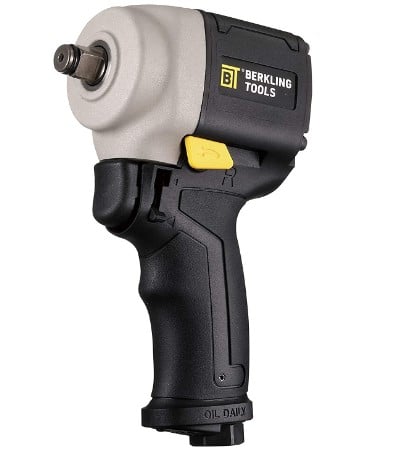 Last but not least on our best air impact wrench under $100 review is the Berkling Tools 2443J Mini Compact ½-inches Air Impact Wrench. Another pocket size (almost) unit that comes packed with a lot of power for all your needs.
It's only about 4.4 inches long by 2.4 inches wide so it's generally shorter than most hands. That compact design just like the ones mentioned above should enable you to do a lot of work on tight or hard to reach places plus it won't strain your hands that much due to its weight.
Also, when we said that it packs a lot of punch, we weren't kidding as it delivers the most torque on our list with 850 foot-pounds. Amazing, right? Also, it delivers at 90 PSI around 550 foot-pounds of torque.
It only weighs 2.5 pounds.
Pros
Very powerful unit

Compact design

Very comfortable and lightweight

No exhaustion for your hand and arm

Optimum control guaranteed
Cons
Not very durable frame and body
Air Impact Wrench Buying Guide
Here are some of the features to consider when you're shopping around for your next air impact wrench. We're going to throw a flurry of aspects your way so be sure to keep up, it's important to know all about these though so you gain needed knowledge about your tool to operate it properly.
Torque
Given that it's the core concept that makes this air impact wrench work then it should be the first aspect that you should consider. What's the minimum here or enough torque to remove a fastener? Well, go look for an air impact wrench with at least 150 feet-pounds or 1800 inch-pounds.
That should be enough for hobbyists or DIY enthusiasts, if you think you need more for heavy-duty applications then go for more torque.
Weight and size
Here's a little bit of practical advice. Please be sure that the weight of your air impact of choice is right for how much you use it. Don't use it a lot? Well, all right. You may compromise weight for some other features but if you do then be sure that it weighs less. You will strain your hands fast with these plus the right weight gives you better control.
Also, consider the size of your impact wrench. Usually, it is size over torque and vice versa so be sure which one you need more over the other.
Important properties
Aside from torque, also consider important aspects like air consumption as it will impact how much work you can get done in a certain amount of time. Take note that your air compressor also has got some limits to it. So, if you always need to get a lot of work done like you are always on a deadline then take note of your wrench's air consumption measured at CFM.
Also, take note of its free speed or no load speed measured at RPM. The higher the said speed the faster it should screw to loosen nuts and bolts. Lastly, consider the drive size. The smaller the drive size the lesser the torque. Also, it pays for an impact wrench to have a torque adjustment to manage output.
Ergonomics
In addition to weight and size, try to buy an air impact wrench that fits nicely into the grip of your hand. You'll be using it a lot most likely so be sure you are comfortable with it. Once you feel that nice balance as you handle it then most likely that's the air impact wrench for you.
How to use an air impact wrench and safety and maintenance tips:
We're going to try and cover a few basic steps on how you should utilize and maintain your air impact wrench to ensure that your purchase will be well worth it.
Step 1
Just remember, your air impact wrench is just like the old fashioned drill. It's got a metal body and a trigger release that enables you to exert the needed level of air as well as torque pressure. You then need to attach it to a long rubber hose that should then be attached to your source of air, an air compressor.
As you pull the trigger, air pressure should get the wrench working.
Step 2
Test it all out. A quick visual inspection making sure that everything is aligned and all set should suffice. Your air impact wrench should be set in the range of 90 to 100 PSI or pounds per square inch.
Make sure that the hose does not have any kink. Air won't flow properly much like water in your hose if there's a kink. Lightly pull on the trigger to test which way your wrench turns.
Step 3
Test the speed of your air impact wrench out. There should be a dial or switch. Before you work on the real deal, try to loosen a few nuts and bolts as practice.
Tips
Make sure to not use any incorrect sockets or bits with your air impact wrench.

Make sure to inspect the cords you utilize regularly. With all the dragging and stepping on it, cords can get damaged but often overlooked.

Your air impact wrench doesn't have a lot of parts so be sure to check them regularly, it won't take up a lot of your time. And, of course, make sure to clean them regularly too. Accumulated debris might cause jamming and you don't want that.

Make sure to store your air impact wrench away from wet conditions or extreme heat.

Make sure that the moving parts are well-lubricated by making sure to only use approved grease and cleaners.

Also, no matter what you are working on, do not make it a habit to apply excessive torque. Not only will this habit damage and break your impact wrench faster but worse, you can get injured with this practice.

Just don't forget to take a closer look at your air impact wrench regularly especially if you use it regularly day in and day out.
Frequently Asked Questions
Question: What is torque?
Answer: All right, we don't mind a little physics review. Since torque is the core concept of an air impact wrench then we shall discuss it a little bit. Torque is simply put rotational force. You apply torque when you unscrew a cap from a bottle. Torque is used for a lot of other things as opposed to hammering a nail with a pushing force. This is where an impact wrench excels, applying a lot of torque into something so you may loosen or tighten something really fast and easily.
Question: What are the advantages of using an air impact wrench?
Answer: Among its many benefits and uses, we shall pick a few to try and highlight them for you. Air impact wrenches make loosening machine tightened nuts and bolts easy. Well, we've mentioned that that is its primary function a couple of times maybe.
A normal wrench just won't cut it on a lot of these instances and while you may try using one, it may take time and worse injure you. With an air impact wrench, things should be easy. If you also need to securely install a few things like say for example a shelf that needs to be helped by big bolts then your go-to tool to tighten them should be your air impact wrench.
And lastly, air impact wrenches are utilized in cars, engines, lawnmowers, and everything that needs to be secure or tightened and loosened and things that you don't want to fall apart due to usage.
Question: What are instances that it is not advisable to use an air impact wrench for?
Answer:As versatile a power tool as an air impact wrench is, there are a few instances that it's not recommended to use them for. For one, they are not used for over-tightening fixings. Also, if you utilize it to tighten cross-threaded nuts or bolts then you might damage them instead.
Also, remember that you should only use specific impact wrench sockets with these tools and not ordinary sockets, mismatched sockets can cause problems. Lastly, we've touched on these above but please be sure to use the right size and type of wrench for your intended purpose. It pays to read a few more dos and don'ts about using an air impact wrench so you avoid some mishaps.
Question: Any other alternative tools for an air impact wrench?
Answer: We have a couple of answers to this question. You probably already know that aside from an air impact wrench there's the electric and hydraulic type, right? We're going to take a look at some key differences between an electric impact wrench to an air impact wrench.
Electric impact wrenches come as corded and cordless. Naturally, corded ones are more powerful but given that it needs to be plugged in may not be as portable and convenient to utilize especially if you need to work on difficult places. Cordless ones are more convenient and ergonomic but don't expect them to deliver the power corded types can.
Knowing that even corded impact wrenches are still far less powerful compared to an air impact wrench. But, you're going to need an air compressor as opposed to just a readily available electrical socket of an electric impact wrench.
Of course, the more power the more work you can get done and on heavy-duty applications too. But also, air impact wrenches are generally more expensive. It's safe to say that professionals will get more work done or value from air impact wrenches and hobbyists or DIY enthusiasts from electric impact wrenches. 
You can also take a look at a pulse tool. It's got the speed properties of an air impact wrench as well. This time, with this tool, it's run by hydraulic fluid which is responsible for the torque it delivers.
Question: Is it worth buying a much more expensive air impact wrench? Would there be any difference?
Answer:Naturally, more expensive tools would generally offer better quality. But based on our research, the biggest difference would be on the durability of the power tool. Less expensive ones may not be as enduring but overall, the work that you can get done with them should be the same as premium ones. If you expect to utilize an air impact wrench for a long time and heavily then you should invest in it more. Otherwise, you don't have to spend a fortune on it.
Final Thoughts
Once again, you don't have to spend a fortune to get all the tools you'd need under your shed. You just need to research far and wide and make sure to invest in what counts. You're here, so you're in the right direction for sure.
These are some of the best air impact wrenches that you can get your hands on for under $100. You won't regret this purchase for sure. Only from trusted brands!
What's important here is you can now get a lot of tasks done and FAST. So don't let anything else delay your decision, go revisit our reviewed air impact wrenches and go grab yourself one NOW!
More From potenttools
Best Corded Electric Impact Wrench